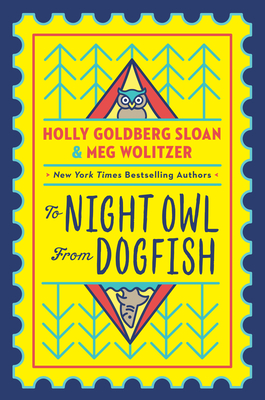 Staff Reviews
---
Avery Bloom and Bett Devlin's dads have fallen in love, and they're sending their daughters off to summer camp to get to know each other. Avery and Bett don't want their lives to change, and vow they'll do everything they can to keep their dads apart. But soon enough, they find they have more in common than they first believed, and embark on a summer that will change their lives - and the lives of their families - forever. Told through an exchange of letters and emails, the delightful, funny, and poignant "To Night Owl From Dogfish" reveals that sometimes the things you don't want turn into the things you most treasure, that not everything good was meant to last forever, that it's never too late to follow your dreams, and that families aren't just made from blood relatives, but "from people who want to be together more than they want to be apart." By the end of the book, you'll feel like you're part of the family, too.
— From Lauren
Description
---
From two extraordinary authors comes a moving, exuberant, laugh-out-loud novel about friendship and family, told entirely in emails and letters.

Avery Bloom, who's bookish, intense, and afraid of many things, particularly deep water, lives in New York City. Bett Devlin, who's fearless, outgoing, and loves all animals as well as the ocean, lives in California. What they have in common is that they are both twelve years old, and are both being raised by single, gay dads.

When their dads fall in love, Bett and Avery are sent, against their will, to the same sleepaway camp. Their dads hope that they will find common ground and become friends--and possibly, one day, even sisters.

But things soon go off the rails for the girls (and for their dads too), and they find themselves on a summer adventure that neither of them could have predicted. Now that they can't imagine life without each other, will the two girls (who sometimes call themselves Night Owl and Dogfish) figure out a way to be a family?