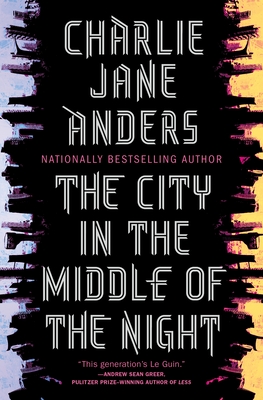 Staff Reviews
---
This is exceptional world-building and great storytelling. Anders portrays how the same characteristics that can make people exceptional are the same ones that can undo us. She seems to be warning us throughout that the danger going forward is in the assumptions we decide to bring with us and leave unquestioned.
— From Mark
I can't imagine I'll read a more inventive novel this year than Charlie Jane Anders' "The City in the Middle of the Night," and yes, I'm fully confident saying that in January. Anders' newest book is all at once a rollicking adventure story, a world-building masterpiece, an anti-colonialism fable, and a subtly revolutionary treatise on climate change and its potentially devastating effects on a people, a city, and a planet. Plus, the story is filled with characters you'll love, from quiet Sophie who forms a wondrous relationship with a civilization of ancient creatures, to rough-and-tumble Mouth, the last of her race and set adrift by the prospect of living a new kind of life. This story will keep you riveted until the very last page.
— From Lauren
Description
---
*The Verge's Science Fiction and Fantasy Book We're Looking Forward to in 2019
*AV Club's 15 Most Anticipated Books of 2019
*Book Riot's Most Anticipated Books of 2019
*Kirkus' 30 Speculative Fiction Books You Should Read in February 2019
*Bookish's Winter's Must-Read Sci-fi & Fantasy
*Bookbub's Best Science Fiction Books Coming Out in 2019
*YA Books Central's Buzzworty Books of 2019

"This generation's Le Guin." —Andrew Sean Greer, Pulitzer Prize-winning author of Less
Charlie Jane Anders, the nationally bestselling author of All the Birds in the Sky delivers a brilliant new novel set in a hauntingly strange future with The City in the Middle of the Night.
"If you control our sleep, then you can own our dreams... And from there, it's easy to control our entire lives."
January is a dying planet--divided between a permanently frozen darkness on one side, and blazing endless sunshine on the other. Humanity clings to life, spread across two archaic cities built in the sliver of habitable dusk.
But life inside the cities is just as dangerous as the uninhabitable wastelands outside.
Sophie, a student and reluctant revolutionary, is supposed to be dead, after being exiled into the night. Saved only by forming an unusual bond with the enigmatic beasts who roam the ice, Sophie vows to stay hidden from the world, hoping she can heal.
But fate has other plans--and Sophie's ensuing odyssey and the ragtag family she finds will change the entire world.
About the Author
---
Charlie Jane Anders is the author of All the Birds in the Sky, which won the Nebula, Locus and Crawford awards and was on Time Magazine's list of the 10 best novels of 2016. Her Tor.com story "Six Months, Three Days" won a Hugo Award and appears in a new short story collection called Six Months, Three Days, Five Others. Her short fiction has appeared in Tor.com, Wired Magazine, Slate, Tin House, Conjunctions, Boston Review, Asimov's Science Fiction, The Magazine of Fantasy & Science Fiction, McSweeney's Internet Tendency, ZYZZYVA, and several anthologies. She was a founding editor of io9.com, a site about science fiction, science and futurism, and she organizes the monthly Writers With Drinks reading series. Her first novel, Choir Boy, won a Lambda Literary Award.