Tuesday, July 7, 2020 - 11:00am
Tuesday, July 7, 11am CST
Left Bank Books' Facebook Page
Left Bank Books is excited to present another Virtual Celebrity Storytime! We welcome illustrator Nick Kennedy and author Josh Trujillo, who will read aloud their new picture book, Lost Beast, Found Friend, on Facebook Live at 11am CST on July 7. Join us on our Facebook Page and order a copy of Lost Beast, Found Friend from Left Bank Books to support authors and independent bookstores!
Lost Beast, Found Friend is the moving, uplifting adventure story about an unlikely friendship between a young girl and a magical beast.
Keelee is a brave, young girl who discovers a purple, fuzzy, funny beast! Together the two must make their way across this fantastic land to return Beast to his home. This is a touching tale of friendship and fun that children will want to revisit again and again. The children's book is the debut of painter Nick Kennedy and comics writer Josh Trujillo (Dodge City). Lost Beast, Found Friend transports readers to a lush, tropical world, and Kennedy's unique style gives Keelee and her new friend a vivid fantasy world to play in. This book will stick with readers of all ages long after story-time is over. Lost Beast, Found Friend is a charming and vibrant adventure story for the explorer in all of us!
Josh Trujillo is a writer, editor, and comic book creator based in San Rafael, California. He has worked with clients including Boom! Studios, Dark Horse Comics, Shanken Creative Group, Oni Press, Telltale Games, and DC Comics, among others. His work spans different genre and audiences, specializing in children's fiction, fantasy, humor, history, romance, gaming, and LGBTQ issues. Trujillo speaks for inclusiveness and diversity in popular media, and works alongside groups including the USC ONE Archive and Prism Comics. Josh loves his dog, his country, and is of good moral fiber. You can remain updated on his work by following Josh on Twitter @LostHisKeysMan.

Nick Kennedy grew up in Alabama, drawing all day long. When he got older, he moved to California. He kept drawing and painting and creating all kinds of art. He is home whenever there is a box of colors and an empty piece of paper.
All you need to do to participate is log in to your personal Facebook account, go to Left Bank Books' Facebook Page, "Like" the page, and wait for the livestream to begin on the page (you may need to refresh the page periodically until the stream begins).
Event address:
Left Bank Books' Facebook Page
Books: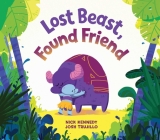 $16.99

ISBN: 9781620107423
Availability: Special Order
Published: Oni Press - June 9th, 2020
---