Tuesday, June 8, 11am CT
Left Bank Books' Facebook Page or YouTube Page
Left Bank Books is excited to present another Virtual Celebrity Storytime!
We welcome award winning Missouri author
David L. Harrison &
award winning illustrator
Kate Cosgrove,
who will read aloud and talk about how they made their new picture book,
The Dirt Book: Poems about Animals That Live Beneath Our Feet,
on Facebook Live at 11am CT on June 8.
Join us on our Facebook Page and order a copy of
from Left Bank Books to support authors and independent bookstores!
About The Dirt Book
15 fun and fact-filled poems about soil--what makes it and who lives in it! This book unearths some of the glorious mysteries that lie beneath our feet!
Dirt! It's made of chipped rocks, rotting plants, decaying animals, fungi, and germs. It's food for plants and home to animals of all kinds.
15 poems explore the underground lives of earthworms, spiders, ants, chipmunks, and more.

Chipmunk, for such a little squirt
you sure do move a lot of dirt,
you sure do dig your tunnels deep,
you sure do find some nuts to keep,
you sure do know your underground.
Chipmunk, you sure do get around.
Spectacular art is oriented for an extra long view to better depict life down deep.
Table of Contents--Dirt Recipe At the Roots of Things, Doodlebug: One Way Ride, Trap Door Spider: The Waiting Game, Earthworm: Dirty Work, Ant: City Builder, Grub: Grass Killer, Mouse: Nightfall Calls, Bumblebee: Planning for Spring, Yellow Jacket Wasp: Warning! Warning! Warning!, Mole: Worm Search, Toad: Bedtime, Chipmunk: Busy, Busy, Busy!, Gopher Tortoise: The Innkeeper, And Now We Know, Author Notes
This is David L. Harrison and Kate Cosgrove's second nature book together after And the Bullfrogs Sing.
This book has been vetted by an expert. It includes back matter and a bibliography.
"This charming picture book is a splendid way to encourage an understanding and appreciation for nature and the often-unseen life that inhabits the planet alongside humans. The illustrations are rich and elaborate and the delightful poems keep the audience cheerfully bopping along to the rhythm of... dirt."-- Shelf Awareness
"With a playful sensibility and expert use of varied patterns of rhythm and rhyme, this collection of 14 poems takes us underground to painlessly learn about the life that burrows beneath our feet. . . . Fittingly laid out in a vertical format to take readers deep down into the ground, the full-bleed illustrations showcase gorgeous earth tones sparked with turquoise, yellow, peach, and lavender. Colored pencil has been manipulated digitally to resemble pastels and depicts a charming world aglow with life. Inviting in every way, this book is perfect for units on soil and animal habitats and is every bit as pleasurable for leisure reading." --School Library Connection
"The vertical double spread layout showcases activity at different depths, with Cosgrove's lush colored pencil and digital renderings an array of sophisticated colors and designerly patterns that fairly begs to be translated to fabric print. End matter comprises a chatty paragraph of additional information and a brief bibliography for each poem." --The Bulletin of the Center for Children's Books
About our Speakers
David L. Harrison's books have received state awards in Kansas, Missouri, Michigan, Arizona, South Dakota, Indiana, Texas, Kentucky, and Virginia. Awards also include IRA/CBC Children's Choices, NCTE Notable Poetry Books, and Bank Street College Best Books. The David Harrison Elementary School in Springfield, Missouri, is named in his honor. David lives in Springfield, Missouri.
Kate Cosgrove has received many awards and honors for her artwork, including a 2018 Highlights Foundation Scholarship. Kate's debut as a picture book illustrator was And the Bullfrogs Sing, also written by David L. Harrison at Holiday House. She lives in Lansing, Michigan.
All you need to do to participate is log in to your personal Facebook account, go to Left Bank Books' Facebook Live Page, and wait for the livestream to begin on the page (you may need to refresh the page periodically until the stream begins). You may also watch the simulcast on Left Bank's YouTube channel.
Tuesday, June 8, 2021 - 11:00am

$18.99
ISBN: 9780823438617
Availability: On Our Shelves (Note - We update this inventory once per day.)
Published: Holiday House - June 8th, 2021
---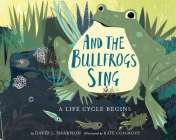 $8.99
ISBN: 9780823446759
Availability: On Our Shelves (Note - We update this inventory once per day.)
Published: Holiday House - July 28th, 2020
---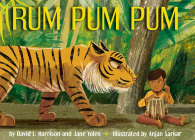 $18.99
ISBN: 9780823441006
Availability: Ships quickly (1-7 days)
Published: Holiday House - September 15th, 2020
---