Tuesday, January 26, 11am CT
Left Bank Books' Facebook Page
Left Bank Books is excited to present another Virtual Celebrity Storytime! We welcome author and illustrator Anastasia Higginbotham, who will read aloud her new picture book, What You Don't Know: A Story of Liberated Childhood, on Facebook Live at 11am CT on January 26. Join us on our Facebook Page and order a copy of What You Don't Know from Left Bank Books to support authors and independent bookstores!
Also, there will be a fun kids' activity during the event! To prepare, gather the following materials: glue, scissors, and magazines to put together a collage. Then, print one roller rink background that is letter-sized and can be printed at home.
I think the days of Heather Has Two Mommies are long past. We're ready for GLBTQIA+ stories for kids that are a little bit complicated and a little bit interesting and a whole lotta fantastic. For all this, the person you turn to is Anastasia Higginbotham. --Betsy Bird, Collection Development Manager of the Evanston Public Library
Anastasia Higginbotham's What You Don't Know: A Story of Liberated Childhood delves into queerness, Blackness, and the love that dismantles whiteness.
It's a book about knowing deeply that you matter--always did, always will. It's a book about what schools get wrong and churches don't say; but institutions are made by people and the people are evolving. It's a book about being known and cherished by family, and living in communion with your own personal Jesus, Buddha, Spirit, Source, Father, Mother, God, breath, inner space, outer space, nothingness, and however else we name and relate to our divinity and humility in the presence of all we don't know.
Anastasia Higginbotham is the author and illustrator of Divorce Is the Worst, Not My Idea: A Book About Whiteness, Death Is Stupid, and Tell Me About Sex, Grandma--all part of the Ordinary Terrible Things series. She lives in Brooklyn. Librarians love her, but not as much as she loves them.
All you need to do to participate is log in to your personal Facebook account, go to Left Bank Books' Facebook Page, "Like" the page, and wait for the livestream to begin on the page (you may need to refresh the page periodically until the stream begins).
Tuesday, January 26, 2021 - 11:00am
Left Bank Books' Facebook Live Page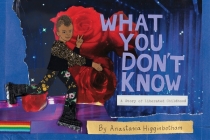 $19.95

ISBN: 9781948340298
Availability: On Our Shelves (Note - We update this inventory once per day.)
Published: Dottir Press - January 26th, 2021
---