Tuesday, May 10, 11am CT
Left Bank Books' Facebook Live Page or YouTube Page
Left Bank Books is excited to present another Virtual Celebrity Storytime!
We welcome Award-winning author
JaNay Brown-Wood
and illustrator
Samara Hardy
who will read aloud and talk about how they made their new picture book,
Miguel's Community Garden,
on Facebook Live at 11am CT on May 10th.
Join us on our Facebook Page and order a copy of
from Left Bank Books to support authors and independent bookstores!
JaNay Brown-Wood grew up with a passion for writing and drafted her first series of unpublished picture books in elementary school. After earning a BA in Psychology from UCLA, an MA in Child Development from CSU, Sacramento, and a PhD in Education from UC Davis, JaNay still loves storytelling! Her first book, Imani's Moon, was a NAESP Children's Book of the Year and a Reading is Fundamental Multicultural Book Pick. Where in the Garden? is her first picture book series with Peachtree Publishing Company. She lives with her family in California.
Samara Hardy has always loved to draw. Unfortunately for her parents, this was often on their walls and furniture… with her mother's lipstick. Realizing she might make a career out of this, she graduated with a degree in Illustration from Falmouth University and has since illustrated all kinds of wonderful things from picture books to reusable bags. She spends her days scribbling away and drawing by the sea in England.
Miguel searches for sunflowers to take to his community garden party in this vibrant, diverse exploration of gardening and healthy eating. From the Where in the Garden? series.
Miguel is throwing a party at his community garden for all of his friends, and he needs help searching for sunflowers to complete the celebration. What do we know about sunflowers? They're tall with petals and leaves--and, hold on, is that a sunflower? No, that's an artichoke. Where, oh, where could those sunflowers be? Can you help Miguel find them in time for his party?
The second title in JaNay Brown-Wood and Samara Hardy's Where in the Garden? series stars an adorable young Latino exploring his garden while comparing, contrasting, and hunting for sunflowers among a multitude of warm-weather fruits and vegetables like apricots, artichokes, asparagus, mushrooms, spinach, and more.
Toddlers and preschoolers will delight as they discover the wonders of fresh produce, and after Miguel finally finds the patch of tall, yellow blossoms, a festive celebration ensues at the community garden where a diverse group of friends and Miguel's two fathers feast on all of the fresh fruits and vegetables.
Back matter includes a delicious recipe.
The Where in the Garden? series features a delightfully diverse cast of toddlers, each exploring simple fruit/vegetable identification. With a reliable, easy-to-follow narrative structure, visual clues are introduced, explored, and reviewed alongside jubilantly illustrated interiors. Perfect for early childhood and elementary education units on agriculture, farming, gardening, and healthy eating.
Also available from JaNay Brown-Wood and Samara Hardy:
Amara's Farm
Booklist (03/01/2022):
Preschool-Grade 1 Miguel is hosting a garden party and needs sunflowers to enhance his decor. He visits his community garden, determined to find them. Sunflowers stand on a single stem, grow tall, have smooth leaves, and have yellow petals with many clustered seeds at the center. Now that readers know what Miguel is looking for, they can help him find them. Along their hunt, they will learn that the properties applicable to sunflowers also apply to other fruits and vegetables such as apricots, artichokes, cherries, mulberries, spinach, mushrooms, celery, and bell peppers. Yes, these plants have lot of similarities--thick stems, round centers, clustered seeds, and so on--but only one is an actual sunflower. Hardy's colorful double-page spreads feature lots of garden detail and thoughtfully depict each plant feature Miguel examines. Along with the lesson on some basic plant biology, this book offers a breezy introduction to gardening. A recipe for a salad (to be made with the help of an adult) composed of some of the plants featured in the book concludes. COPYRIGHT(2022) Booklist, ALL RIGHTS RESERVED.
Books: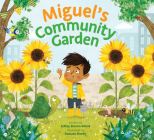 $16.99

ISBN: 9781682631669
Availability: On Our Shelves (Note - We update this inventory once per day.)
Published: Peachtree - March 1st, 2022
---

$16.99

ISBN: 9781682631652
Availability: On Our Shelves (Note - We update this inventory once per day.)
Published: Peachtree - September 7th, 2021
---

$7.95

ISBN: 9781934133583
Availability: Ships quickly (1-7 days)
Published: Charlesbridge - October 14th, 2014
---