Saturday, June 25, 11am CT
Left Bank Books' Facebook Live Page or YouTube Page
Left Bank Books is excited to present a Virtual Celebrity Storytime
with internationally-known visual artist and illustrator residing in St. Louis
Cbabi Bayoc
who will read aloud and talk about how he illustrated the new picture book
Goodnight Racism,
on Facebook Live at 11am CT on June 25th.
Join us on our Facebook Page and order a copy of
from Left Bank Books to support authors and independent bookstores!
Signed copies of Goodnight Racism are available from Left Bank Books.
Cbabi Bayoc will be signing copies of the book available to order online or in store.
Cbabi (pronounced Kuh-bob-bi) Bayoc is an internationally-known visual artist and illustrator residing in St. Louis, Missouri. His subjects include family, children, music and a bunch of other cool stuff designed with line, bold color and phunk! Cbabi spends his time working on a variety of projects, including portraits, community murals, school murals, and children's book illustrations. Learn more at his website cbabibayoc.com or follow him on Instagram @cbabi.

National Book Award-winning and New York Times bestselling author Ibram X. Kendi (How to Be an Antiracist, Antiracist Baby) returns with a new picture book that serves as a modern bedtime classic.
As children all over the world get ready for bed, the moon watches over them. The moon knows that when we sleep, we dream. And when we dream, we imagine what is possible and what the world can be.
With dynamic, imaginative art and poetic prose , Goodnight Racism delivers important messages about antiracism, justice, and equality in an easy-to-read format that empowers readers both big and small. Goodnight Racism gives children the language to dream of a better world and is the perfect book to add to their social justice toolkit.
You can watch live on Left Bank's YouTube channel. To participate on Facebook, log in to your personal Facebook account, go to Left Bank Books' Facebook Live Page, and wait for the livestream to begin on the page (you may need to refresh the page periodically until the stream begins). You can watch on either location without logging in, but in order to comment or interact with the program, you must be logged in.
Books: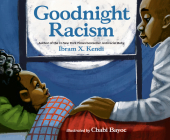 $18.99

ISBN: 9780593110515
Availability: On Our Shelves (Note - We update this inventory once per day.)
Published: Kokila - June 14th, 2022
---