Monday, January 23, 2023 - 7:00pm
Monday January 23, 7pm
399 N. Euclid Ave.
St. Louis, MO 63108
This book group will be meeting virtually, EMAIL shane.m@left-bank.com for virtual meeting link.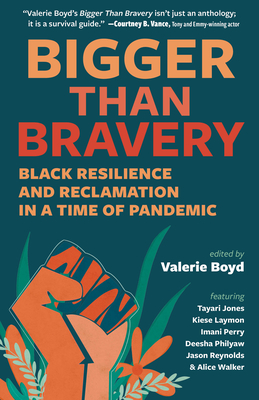 Join the Well-Read Black Girl for a discussion of Bigger Than Bravery by Valerie Boyd
Get Bigger Than Bravery for 20% off by phone and online during the months of December and January!
"Valerie Boyd's Bigger Than Bravery isn't just an anthology; it is a survival guide." --Courtney B. Vance, Tony- and Emmy-winning actor

An anthology of Black resilience and reclamation, with contributions by Pearl Cleage, Aunjanue Ellis-Taylor, Honor e Fanonne Jeffers, Tayari Jones, Kiese Laymon, Imani Perry, Deesha Philyaw, Khadijah Queen, Jason Reynolds, Alice Walker, and moreBorn of a desire to bring together the voices of those most harshly affected by the intersecting pandemics of Covid-19 and systemic racism, Bigger Than Bravery explores comfort and compromise, challenge and resilience, throughout the Great Pause that became the Great Call. Award-winning author and scholar of the Black archive Valerie Boyd curates this anthology of original essays and poems, alongside some of the most influential nonfiction published on the subject, inviting readers into a conversation of restorative joy and enduring wisdom. Bigger Than Bravery captures what Boyd calls the "first draft of history," with poems serving as deep breaths between narrative essays to form a loose chronology of this unprecedented time. Karen Good Marable cranks "Whip My Hair" from the car windows during quarantine joyrides with her daughter. Deesha Philyaw ponders loneliness as she sorts Zoom meetings into those that require a bra and those that don't. Writing in the moment though not of it, Pearl Cleage reflects on what has and hasn't changed since the AIDS epidemic. Jason Reynolds harnesses heat and flavor to carry on his father's legacy.Sorrow and outrage have their say, but the stories in these pages are bright with family, music, food, and home, teaching us how to nourish ourselves and our communities. Looking ahead as much as it looks back, Bigger Than Bravery offers a window into a hopeful, complex present, establishing an essential record of how Black people in America insist on joy as an act of resistance.
Books:

$18.95

ISBN: 9781940596471
Availability: On Our Shelves (Note - We update this inventory once per day.)
Published: Lookout Books - November 15th, 2022
---