Wednesday, October 28, 11am
Left Bank Books Online Meeting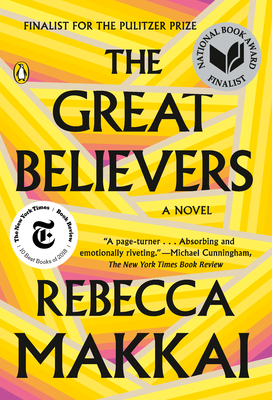 THIS BOOK GROUP MEETING IS BEING MOVED ONLINE. EMAIL shane.m@left-bank.com FOR MEETING LINK.
Join Novel Ideas for a reading group discussion of The Great Believers by Rebecca Makkai.
Get The Great Believers for 20% off by phone and online during the months of September and October!
Staff Reviews
---
The Great Believers will be a very strong contender for my favorite book of the year. The two storylines are equal in strength. This is a roller coaster of emotion. I had to stop reading because I could not read through my tears. I cannot recommend a book more that will break your heart.
— From Shane
PULITZER PRIZE FINALIST
NATIONAL BOOK AWARD FINALIST
A NEW YORK TIMES TOP 10 BOOK OF 2018
LOS ANGELES TIMES BOOK PRIZE WINNER
ALA CARNEGIE MEDAL WINNER
THE STONEWALL BOOK AWARD WINNER

Soon to Be a Major Television Event, optioned by Amy Poehler

"A page turner . . . An absorbing and emotionally riveting story about what it's like to live during times of crisis." —The New York Times Book Review

A dazzling novel of friendship and redemption in the face of tragedy and loss set in 1980s Chicago and contemporary Paris

In 1985, Yale Tishman, the development director for an art gallery in Chicago, is about to pull off an amazing coup, bringing in an extraordinary collection of 1920s paintings as a gift to the gallery. Yet as his career begins to flourish, the carnage of the AIDS epidemic grows around him. One by one, his friends are dying and after his friend Nico's funeral, the virus circles closer and closer to Yale himself. Soon the only person he has left is Fiona, Nico's little sister.

Thirty years later, Fiona is in Paris tracking down her estranged daughter who disappeared into a cult. While staying with an old friend, a famous photographer who documented the Chicago crisis, she finds herself finally grappling with the devastating ways AIDS affected her life and her relationship with her daughter. The two intertwining stories take us through the heartbreak of the eighties and the chaos of the modern world, as both Yale and Fiona struggle to find goodness in the midst of disaster.

Named a Best Book of 2018 by The New York Times Book Review, The Washington Post, NPR, San Francisco Chronicle, The Boston Globe, Entertainment Weekly, Buzzfeed, The Seattle Times, Bustle, Newsday, AM New York, BookPage, St. Louis Post-Dispatch, Lit Hub, Publishers Weekly, Kirkus Reviews, New York Public Library and Chicago Public Library
About the Author
---
Rebecca Makkai is the author of The Borrower, The Hundred-Year House, which won the Novel of the Year Award from the Chicago Writers Association, and Music for Wartime. Her work has appeared in The Best American Short Stories, Harper's, and Tin House, among others. She lives outside Chicago with her husband and two daughters.
Praise For…
---
"Rebecca Makkai's The Great Believers is a page turner... among the first novels to chronicle the AIDS epidemic from its initial outbreak to the present—among the first to convey the terrors and tragedies of the epidemic's early years as well as its course and repercussions...An absorbing and emotionally riveting story about what it's like to live during times of crisis."—The New York Times Book Review

"Makkai knits themes of loss, betrayal, friendship and survival into a powerful story of people struggling to keep their humanity in dire circumstances."—People Magazine

"Cultural revolutions of the past painfully reverberate in Rebecca Makkai's deft third novel, The Great Believers, which captures both the devastation of the AIDS crisis in 1980s Chicago and the emotional aftershocks of those losses."—Vogue

"A striking, emotional journey... Makkai creates a powerful, unforgettable meditation, not on death, but rather on the power and gift of life. This novel will undoubtedly touch the hearts and minds of readers."—Publishers Weekly (starred review)

"Tearjerker… The Great Believers asks big questions about redemption, tragedy, and connection. Makkai has written her most ambitious novel yet."—Entertainment Weekly

"The Great Believers soars…magnificent…Makkai has full command of her multi-generational perspective, and by its end, The Great Believers offers a grand fusion of the past and the present, the public and the personal. It's remarkably alive despite all the loss it encompasses."—Chicago Tribune

"Beautiful, tender, harrowing... [The Great Believers] is a vivid, passionate, heart-wrenching story."—Wall Street Journal

"Compulsively readable…a relentless engine mowing back and forth across decades, zooming in on subtlest physical and emotional nuances of dozens of characters, missing no chance to remind us what's at stake."—San Francisco Chronicle

"At turns heartbreaking and hopeful, the novel brings the first years of the AIDS epidemic into very immediate view, in a manner that will seem nostalgic to some and revelatory to others…Makkai's sweeping fourth novel shows the compassion of chosen families and the tension and distance that can exist in our birth ones."—Library Journal

"Sure to become a classic Chicago novel…a deft, harrowing novel that's as beautiful as its cover." —Chicago Review of Books

"The latest novel from the stunningly versatile Makkai…Focused on a group of friends, lovers, and family outcasts, the book highlights the way tragic illness shifts the courses of people's lives—and how its touch forever lingers on those left behind."—Harper's Bazaar

"A devastating contemplation of love and loss…evokes the epidemic's horrors, yes, but also the profound acts of generosity it sparked."—Oprah.com, "O's Top Books of Summer"

"Deeply moving…Makkai does an excellent job of capturing the jaded, ironic and affectionately jibing small talk of a group of cultured gay friends in the Reagan era…[Captures] a group of friends in a particular time and place with humor and compassion. Conversations among her gay male characters feel very real — not too flamboyant, not too serious, always morbidly witty. It's hard not to get drawn into this circle of promising young men as they face their brutally premature extinction."—Newsday

"Two distinct narratives intertwine ingeniously…The stories meet up to heartbreaking effect."—New York Magazine

"A poignant, historical journey through a virus's outbreak and legacy."—Conde Nast Traveler

"Rebecca Makkai's beautiful (literally—look at that cover!) novel takes us to an art gallery in Chicago at the height of the AIDS crisis. From Chicago to Paris, THE GREAT BELIEVERS is a sweeping story of multi-generational trauma and the solitude that the AIDS epidemic created, as an entire generation was decimated by the virus."—Fodor's Travel

"With its broad time span and bedrock of ferocious, loving friendships, [The Great Believers] might remind readers of Hanya Yanagihara's A Little Life…though it is, overall, far brighter than that novel. As her intimately portrayed characters wrestle with painful pasts and fight to love one another and find joy in the present in spite of what is to come, Makkai carefully reconstructs 1980s Chicago, WWI-era and present day Paris, and scenes of the early days of the AIDS epidemic. A tribute to the enduring forces of love and art, over everything."—Booklist (starred review)

"To believe in something is to have faith, and Makkai dispenses it fiercely, in defiance of understandable nihilism and despair—faith in what's right, in the good in others, in better outcomes, in time's ability not to heal but to make something new."—National Book Review

"Another ambitious change of pace for the versatile and accomplished [Rebecca] Makkai… her rich portraits of an array of big personalities and her affecting depiction of random, horrific death faced with varying degrees of gallantry make this tender, keening novel an impressive act of imaginative empathy. As compulsively readable as it is thoughtful and moving: an unbeatable fictional combination."—Kirkus Reviews (starred review)
Wednesday, October 28, 2020 - 11:00am

$12.80
ISBN: 9780735223530
Availability: On Our Shelves Now
Published: Penguin Books - June 4th, 2019
---