Wednesday, January 4, 2023 - 7:00pm
Wednesday, January 4th, 7pm
Left Bank Books Online Meeting
THIS MEETING WILL BE ONLINE VIA SKYPE. CHECK THE GREAT NOVELS OF THE 22ND CENTURY FACEBOOK GROUP FOR THE MEETING INSTRUCTIONS.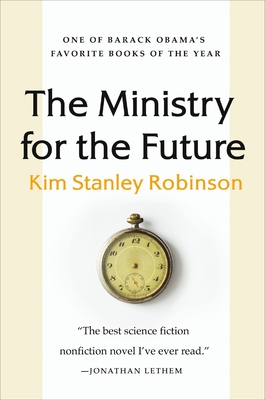 Join Great Novels of the 22nd Century for a reading group discussion of Ministries of the Future by Andrew Nette
Get Dangerous Visions and New Worlds for 20% off online or over the phone during December and January!
"The best science-fiction nonfiction novel I've ever read." —Jonathan Lethem

"If I could get policymakers, and citizens, everywhere to read just one book this year, it would be Kim Stanley Robinson's The Ministry for the Future." —Ezra Klein (Vox)

The Ministry for the Future is a masterpiece of the imagination, using fictional eyewitness accounts to tell the story of how climate change will affect us all. Its setting is not a desolate, postapocalyptic world, but a future that is almost upon us. Chosen by Barack Obama as one of his favorite books of the year, this extraordinary novel from visionary science fiction writer Kim Stanley Robinson will change the way you think about the climate crisis.

"One hopes that this book is read widely—that Robinson's audience, already large, grows by an order of magnitude. Because the point of his books is to fire the imagination."―New York Review of Books

"If there's any book that hit me hard this year, it was Kim Stanley Robinson's The Ministry for the Future, a sweeping epic about climate change and humanity's efforts to try and turn the tide before it's too late." ―Polygon (Best of the Year)

"Masterly." —New Yorker

"[The Ministry for the Future] struck like a mallet hitting a gong, reverberating through the year ... it's terrifying, unrelenting, but ultimately hopeful. Robinson is the SF writer of my lifetime, and this stands as some of his best work. It's my book of the year." —Locus

"Science-fiction visionary Kim Stanley Robinson makes the case for quantitative easing our way out of planetary doom." ―Bloomberg Green
Books:

$18.99

ISBN: 9780316300148
Availability: On Our Shelves (Note - We update this inventory once per day.)
Published: Orbit - October 19th, 2021
---