Wednesday, October 7, 7pm
Left Bank Books Online Meeting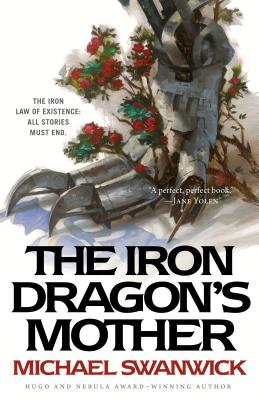 THIS MEETING WILL BE ONLINE VIA SKYPE. CHECK THE GREAT NOVELS OF THE 22ND CENTURY FACEBOOK GROUP FOR THE MEETING INSTRUCTIONS.
Join Great Novels of the 22nd Century for a reading group discussion of The Iron Dragon's Mother by Michael Swanwick.
A 2020 LOCUS AWARD FINALIST AND KIRKUS BEST SCIENCE FICTION AND FANTASY OF 2019

Award-winning author Michael Swanwick returns to the gritty, post-industrial faerie world of his New York Times Notable Book The Iron Dragon's Daughter with the standalone adventure fantasy The Iron Dragon's Mother.
Get Iron Dragon's Mother for 20% off online or over the phone during September and October!

Caitlin of House Sans Merci is the young half-human pilot of a sentient mechanical dragon. Returning from her first soul-stealing raid, she discovers an unwanted hitchhiker.

When Caitlin is framed for the murder of her brother, to save herself she must disappear into Industrialized Faerie, looking for the one person who can clear her.

Unfortunately, the stakes are higher than she knows. Her deeds will change her world forever.
---
MICHAEL SWANWICK has received the Nebula, Theodore Sturgeon, World Fantasy and Hugo Awards, and has the pleasant distinction of having been nominated for and lost more of these same awards than any other writer. His novels include Stations of the Tide, Bones of the Earth, two Darger and Surplus novels, and The Iron Dragon's Mother. He has also written over a hundred and fifty short stories - including the Mongolian Wizard series on Tor.com - and countless works of flash fiction. He lives in Philadelphia with his wife, Marianne Porter.
---
Praise for The Iron Dragon's Mother

"Michael Swanwick's twisty tale of a half-human changeling warrior is the third work to be set in his 'Industrialized Faërie' world, the most thoroughly imagined fictional realm since that of J.R.R. Tolkien."—The Wall Street Journal

". . . Swanwick's final Faerie novel [is] a thoroughly fascinating meditation on the Nietzschean adventures of his earlier novels."—Los Angeles Review of Books

"Twisted in the right way, with tart and tricksy language you can swirl around in your mouth like good wine, it is a perfect, perfect book."—Jane Yolen

"Discworld meets Faust. They do not like each other. Philip Pullman picks up the pieces."—Kirkus (starred review)

"The irresistible appeal of Swanwick's version of Faerie, along with his usual skill at drawing vividly complex and conflicted characters . . . lend the novel a density and texture that seems a bit surprising, considering all the fun we're having along the way."—Locus

"This epic is full of carefully crafted lands, characters, and creatures, and readers will savor each page."—Publishers Weekly

"Filled with treats and surprises, like a box full of bonbons and firecrackers. Prepare to be delighted and horrified, tickled and amazed."—Eileen Gunn

"Michael Swanwick's stories are woven with an artisan's skill, his adventures with a pilot's sense for the heights, a marksman's aim, and a poet's ear. I've loved his work for decades and am always excited to see something new from him."—Fran Wilde

"Enter this new novel set in his modern, deeply disrupted Faerie. . . . You will eventually emerge from these pages, but you'll wish you didn't have to. You'll wish you could keep reading forever."—Nisi Shawl, author of Everfair
Wednesday, October 7, 2020 - 7:00pm

$26.99
ISBN: 9781250198259
Availability: On Our Shelves Now
Published: Tor Books - June 25th, 2019
---