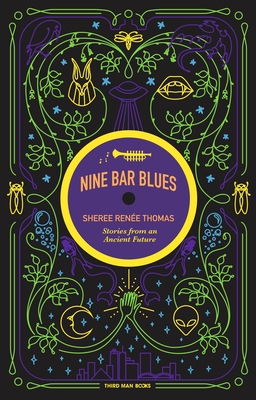 THIS MEETING WILL BE ONLINE VIA SKYPE. CHECK THE GREAT NOVELS OF THE 22ND CENTURY FACEBOOK GROUP FOR THE MEETING INSTRUCTIONS.
Join Great Novels of the 22nd Century for a reading group discussion of Nine Bar Blues by Sheree Renee Thomas.
Get Nine Bar Blues for 20% off online or over the phone during March and April!
The stories collected in Nine Bar Blues weave emotion, spirit, and music, captivating readers with newfound alchemy and the murmurs of dark gods. Rooted in rhythm, threaded with magic, these tales encompass worlds that begin in river bottoms, pass through spectral gates, and end in distant uncharted worlds. These stories describe the pain that often accompanies the confines of sanctuary and the joy that is inextricably bound to the troubles of hard living. Nine Bar Blues sings a multiverse of fully realized worlds that readers will remember for ages to come and cherish from page to heart thumping, foot-stomping page.
Wednesday, April 7, 2021 - 7:00pm
Left Bank Books Online Book Club Meeting

$16.95
ISBN: 9780997457896
Availability: Ships quickly (1-7 days)
Published: Third Man Books - May 26th, 2020
---