Europe in Sepia (Paperback)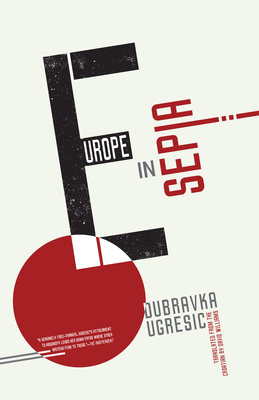 $13.95
Usually Ships in 1-5 Days
Staff Reviews
---
Europe in Sepia is a brilliant collection of essays from one of the most under-appreciated members of the human race, Dubravka Ugreši?. From the unfortunate rise of black stretch pants to European immigration, Croatian nationalism to the value of a writer, Ugreši? tackles all with deft humor and courageous insight.  -Erin's Pick, 2/12/14
Description
---
Dubbed "the fantasy cultural studies professor you never had" by Ruth Franklin, Ugresic has one finger on the pulse of an exhausted Europe, another in the wounds of postindustrial America. From pieces on Zuccotti Park to ones on nostalgia and Dutch housing, she trawls the fallout of political failure and the detritus of popular culture, mining each for revelation.
About the Author
---
An acclaimed novelist and essayist, Dubravka Ugresic is a native of the former Yugoslavia who left her homeland in 1993 for political reasons. She now lives in Amsterdam.
David Williams heads the four- and five-year-old division of the summer soccer camps sponsored by Fort Lewis College, in Durango, Colorado.
Scott Graham is an author, journalist, father, and coach of young soccer players.